Small Business, Big Heart
We're celebrating small businesses that are not only figuring out how to adapt during challenging times, but are also paying it forward even as they face their own challenges. In each episode of our new series, "Small Business, Big Heart," we tell the stories of business owners who are helping to inspire hope and bring their communities together. 
Protecting Your Business From Fraud
Amanda Brinkman joined U.S. Bank's Morris Jackson as he discussed how small businesses can protect themselves from fraud. Watch the webinar with our Season 5 Small Business Revolution partner to ensure your business isn't at risk!
Tips from Small Business Revolution
The Small Business Revolution is an original TV series by Deluxe, showcasing small-town makeovers across the country.  On a mission to revitalize small towns through their small businesses, each season we give one lucky town the makeover of a lifetime.  
Host of the Small Business Revolution, Amanda Brinkman, recently sat down with each of the small business owners from the upcoming Season 5 to offer advice around marketing your business during the Coronavirus (COVID-19) pandemic. The most important piece of advice? How to communicate with your customers across channels, which Brinkman outlines in this virtual call.
SCORE Webinar
Marketing advice to combat an economic downturn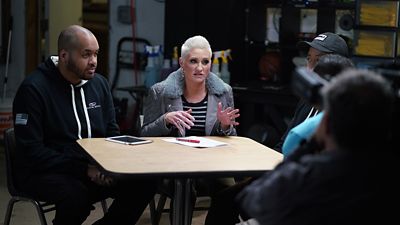 Insights from Amanda Brinkman
Want more advice to stay competitive as the pandemic challenges your business? Watch our recent webinar, hosted by Amanda Brinkman in conjunction with SCORE, our partners and small business mentors.
Catch up on the past four seasons of the Small Business Revolution, where Amanda Brinkman and a host of experts from Deluxe help small businesses improve their marketing strategies to reignite their small business communities. Each season, America chooses the town, we choose the small businesses, award them with a $500,00 revitalization and capture that transformation in this critically-acclaimed series. Watch seasons 1-4 as Amanda is joined by celebrity entrepreneur Robert Herjavec and renovation icon Ty Pennington. 
Each episode offers tips, advice, and inspiration – watch to learn how you can apply these solutions to your own business! 
You can find these episodes on Hulu, Amazon Prime and SmallBusinessRevolution.org!
Marketing Minutes – helping you tackle your biggest challenges, one minute at a time
After four seasons of filming the Small Business Revolution, we created bite-size videos based on the real stories and hurdles facing business owners across the country. Each Marketing Minute provides tried-and-true solutions from the show to help entrepreneurs overcome their biggest marketing challenges. Now, more than ever, it's important to reach out customers who want to hear from you. Learn how email marketing is one of the most cost-effective ways to stay connected.
Why accurate and consistent online listings are vital
Your online business listings can be a primary source for driving traffic to your website. Learn why it's important to ensure that your critical information like business hours, phone number and categories are up to date.
Simple photography hacks for posting on social media
If your business relies on social media to showcase the products and services you offer, check out these tips to get more mileage out of every post.
How to make your website work even harder
While your website tells the story of your business, it should also help visitors take action. Whether it's ordering online, prompting donations or signing up for virtual classes, getting more from your site is essential.
Stay in front of your customers using email marketing
Now, more than ever, it's important to reach out customers who want to hear from you. Learn how email marketing is one of the most cost-effective ways to stay connected.