We trust the opinions of the people in our personal networks. Just think about your own experiences as a consumer. How many times have you made a purchase, visited a restaurant or tried a service based on the recommendation of a friend or family member?
Word-of-mouth marketing is one of the most valuable tools you have for promoting your business. Savvy business owners harness happy customers' opinions to attract new traffic.
Positive word-of-mouth can and will spread naturally, with customers taking it upon themselves to recommend your business to friends and family. However, you can encourage positive buzz and create a network of supporters who will help get your business's name out there.
Here's how to turn customers into fans and use positive word-of-mouth marketing to build brand awareness.
Step 1: Focus on customer experience and satisfaction
Word-of-mouth marketing relies on customers sharing the positive online and offline experiences they've had with a brand. Because people typically don't make recommendations based on average experiences, it's up to you to delight your customers — and get them talking about you online and in person.
Ramona Jones is the owner of Discover, Learn & Grow — an early learning center in Bristol Borough, Pennsylvania, featured on Season 2 of Small Business Revolution. After Ramona and her son Marcelous opened the center, their top challenge was letting the community know they existed. But, before they could generate word-of-mouth, they had to make sure that they were delivering a top-notch experience that would allow them to stand out from their competitors.
To do that, the Joneses upgraded the look of their center, adding a vibrant new logo to the building's front window and a kitchenette that would allow them to serve healthy meals to children. They also expanded their offerings and started hosting birthday parties. To make it easy for parents to schedule a visit, they added a contact form to their redesigned website. All of the improvements added up to a top-notch experience that remained in clients' and prospective clients' minds.
How you can focus on your customers' experience with your business:
Satisfied customers will sing your praises, so spend some time thinking about how you can go the extra mile. Try these ideas:
Send a customer survey. To find out what customers are looking for and what you can do to impress them, ask them! Many customers love to give feedback about what you could do to improve their experience or your products or services.
Present your business as something customers will want to share. The Joneses recognized the importance of this and made Discover, Learn & Grow seem welcoming, both online and off. For your business, take stock of how you appear to others. A clip art logo, a nonfunctioning or unhelpful website, or a foreboding space will not inspire customers to spread the word about you.
Step 2: Make an emotional connection
It is crucial that you nurture the relationships that you have with your customers and find ways to engage with them online and in person. People who are emotionally invested in your company or feel that they have a relationship with you and your team are more likely to become brand advocates.
One way that Discover, Learn & Grow now connects with their audience is by sending personalized holiday cards to their clients. The professionally printed cards feature the center's logo and a heartfelt greeting. The unexpected dose of cheer that shows up in customers' mailboxes helps kindle good feelings about the early learning center and reinforce the idea that Discover, Learn & Grow is a place worth talking about.
How you can engage customers emotionally:
Depending on your business or industry, how you engage with customers emotionally may differ — or in some cases seem like a bit of a stretch. But here are some techniques that tend to work across businesses of all kinds:
Communicate with your fans and followers on social media. Thoughtfully respond to their comments, questions and concerns. Showing you're engaged on social media demonstrates that you're engaged with customers in other aspects of your business.

Ask for feedback. What better way to show that you value your customers' opinions than by asking them what they think about your company? Here again, customer surveys — even just a one-question survey that can be answered in a single click — are helpful.

Attend community events. Is there a street fair, festival or charity event happening in your town? Set up a booth and chat with the people who stop by. By taking an active role in your community, you'll get people talking about you in the community.

Humanize your marketing. Rather than always focusing on making a sale, use your website, emails and other marketing materials to tell your business's story. What is your mission? Why do you do what you do? Let your customers know more about the people behind the business. Showing the human side of your business can spur customers to want to do business with you.

 
Step 3: Encourage reviews and amplify customers' voices
Websites like Yelp and Facebook are where word-of-mouth spreads online. People seek out online reviews to determine whether to make a purchase, so the way your business shows up in those searches is important. Make sure that customers are sharing the great experiences that they've had with your company by encouraging them to post a review. Yelp discourages businesses from actively soliciting positive reviews, but you should still invite customers to check you out on Yelp or place a Yelp badge on your website to make it easier for them to leave a review. 
When someone does share a positive experience, showcase it. The Joneses launched Discover, Learn & Grow with a drab website that didn't highlight the quality of their service or their educational expertise. It also wasn't attracting calls from potential clients. They had their website redesigned by Deluxe, and the new site is not only more engaging, but it also features client testimonials. Instead of telling their audience that they're trusted by members of the community, the Joneses have let members of the community say it for them:
How you can showcase customer voices:
Build trust with prospects by embracing the power of online reviews and testimonials.
Make it irresistible for customers to share their experiences. Rather than simply requesting a review, turn the "ask" into a fun activity. Hold a mini-contest where customers can share their experiences with your company on Facebook. The comment of the week gets a shout-out or gift card or discount.

Leverage testimonials. When someone lets you know how pleased they are with your business, use their quotes in your marketing materials. Email, social media and printed brochures are all excellent places to highlight reviews. Just remember to get permission from customers first.

Keep it real. Never create or ask for fake reviews, and never edit negative reviews. Good service or products will be rewarded with positive reviews. Focus on delivering a quality customer experience at each customer interaction. When a bad review happens, respond politely to the criticism.
Step 4: Provide your audience with the right promotional tools
Print marketing materials (like business cards or postcards) and promotional products (like pens and tote bags) make it easier for your customers to spread the word about your business. In fact, the right items can turn satisfied customers into brand advocates who can help spread the word about your services.
To build brand awareness in their community, Discover, Learn & Grow printed brochures that outline their various program options for parents. These brochures can be handed out when parents stop by for a tour, they can be placed in libraries or other community spaces, they can be distributed at community events, and they can be easily shared by clients.
Customized apparel, emblazoned with your company's logo, is another great way to get your name out there. For example, you can sell T-shirts or tote bags to customers. When they wear or carry them out and about, they'll look stylish while promoting your company.
How you can equip fans and brand advocates:
Promotional items keep your products or services top of mind throughout the year, so think of ways that you can use them to publicize your business.
Determine which items are a natural fit. A gym or yoga studio might consider handing out branded water bottles, while a bar or restaurant could sell branded drinkware. Think about which items complement your offerings and will be most useful to your clientele.
Come prepared to events. You're probably already attending conventions, festivals and community events to get your name out there. But before you go, don't forget to bring your business cards, brochures and branded swag to hand out to the people you meet.
Building brand awareness is a challenge — especially when you're just starting out. But you can make a name for yourself in your community by building a network of supporters. Two months after revamping their marketing strategy and implementing all of these changes, Discover, Learn & Grow was connecting with more potential clients. In fact, the Joneses exceeded their enrollment goals to the point they need additional space. Ramona says, "We are at capacity and are looking to expand to a second facility."
Their success is largely thanks to the word-of-mouth they worked so hard to build. Your business can do the same.
See these tips in action:
RECOMMENDED RESOURCES
Keep your business moving forward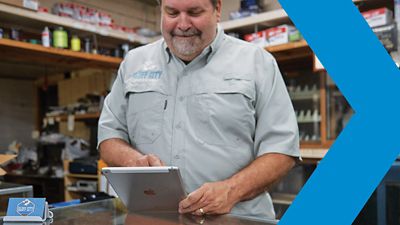 Blog Small Business
If your business isn't showing up in online searches, it's as good as invisible. SEO experts at Deluxe explain how to use online listings to capture new customers.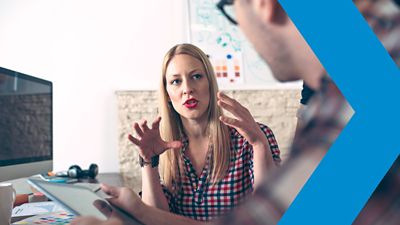 Blog Small Business
A custom logo design helps your business become more recognizable and establishes credibility with potential customers. Deluxe shares 3 must-haves for a great logo.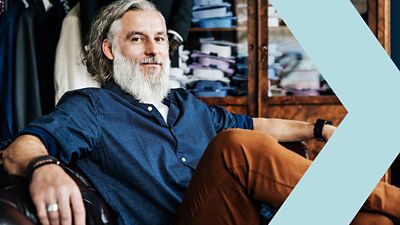 Blog Small Business
Starting your business journey is exciting, but it can also be daunting. Follow these pre- and post-launch milestones to stay on track for success.