Brand Marketing
Attorney & Law Logo Design
Get great-looking designs that turn heads, build credibility and help you stand out from the pack.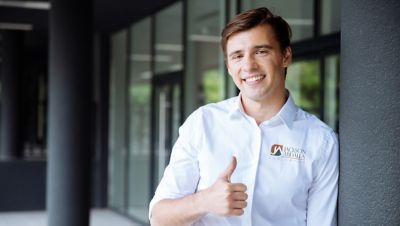 Represent yourself effectively with the right logo
When looking for legal assistance, people need to feel that an attorney has their best interests at heart. To establish trust, you have to instantly communicate your professionalism, experience and determination to prospective clients. The quickest way to introduce yourself, your law office and your principles, while simultaneously inspiring confidence in your services, is with a strong logo.
What makes a successful attorney and law offices logo?
Hiring a lawyer can be a confusing and emotionally fraught experience. Often, those who seek out legal services are anxious, scared and upset — some may even be injured. What's more, for many people, television shows and movies are the only points of reference for what the legal system is like. People working through legal matters are looking to an attorney for answers and reliable counsel. Your logo design should assure them that you're capable of helping.
At a glance, it must convey your law office's story and values. Are you a general practice lawyer? Do you serve a very specific demographic? Do you represent clients in court, arbitration or other legislative hearings? Do you offer personalized legal assistance? A logo tells prospective clients what you do best through design elements like imagery, color, typography and style.
For the attorney and legal services, popular symbols and imagery include the scales of justice, feathered writing quills, shields and Corinthian columns. But to stand out, consider personalizing these symbols or employing an entirely different symbol that speaks to your area of expertise.  For instance, a real estate law office could incorporate a roof illustration into their logo. If you prepare documents like wills or contracts, a fountain pen illustration would work well. A family law logo might find success with figurative human icons that evoke the family unit. If you're a probate lawyer who serves a specific area, consider weaving a local landmark into your logo.
Whichever symbol you ultimately end up choosing, it's important to note that most attorneys stay away from cartoonish imagery and stick to simple graphics. Your clients and prospective clients are dealing with serious, potentially life-altering issues and it's important to demonstrate that you don't take those matters lightly.
When it comes to color palette, earth tones are a common choice for attorneys. Brown, for instance, is a comforting color that suggests stability, security and confidence. To a potential client who might be apprehensive or nervous about the legal process, encountering a brown logo can be reassuring. Blue is another popular choice because it denotes so many of the qualities that people value in attorneys, paralegals and other legal professionals: intelligence, efficiency and trustworthiness.
Why you need a professionally designed logo
Your clients have the option to represent themselves in court or wade through legal documents on their own. But would you recommend that? Success is contingent upon knowledge, experience, and skill, both in the courtroom and in branding. From estate planning to personal injury law, our logo experts understand what works for legal professionals. Your designer will learn about your practice, take industry standards into account and craft a logo unique to you.
Put your logo where it looks best: everywhere
Your new logo is guaranteed to be legible at every size, which means you can proudly display it on your website, business cards, letterhead, billing materials, coffee cups, pens and anywhere else your clients can see it.
Business Cards
Website
Promotional Merchandise
Company Vehicles
Printed Marketing Material
Labels & Stickers
Workwear
Banners & Signage
Get a unique logo design that's perfect for your business
Our experienced designers take the time to understand your business. They'll craft an original logo that best represents your company on all channels — your website, business cards, letterhead, storefront and company vehicles, to name only a few. Each package includes multiple revisions so the final design is 100% perfect.
We know logo design
Get the perfect logo for your brand, whether you build it yourself or let us create one for you.
We champion small business
With a $300 loan and an idea, Deluxe got its start like many small businesses. We value entrepreneurship, and empower companies to grow.
We are trusted
4.5 million customers have put their faith in our products and services. We've been earning the trust of owners since 1915.
What our customers say about our work
The website looks terrific! The customer service was exceptional and second-to-none. The website looks terrific and is certainly worth what I paid.
Vincent Miceli
The service was easy to use and I received a beautiful logo! I felt that the design team really heard me.
Karen Nadler
Deluxe Logo Design Service has created logos for two of my businesses. Their staff is professional and knowledgeable. Most importantly, their designers produce creative, high-quality, versatile designs. I would recommend Deluxe's services to any entrepreneur or brand manager.
Tate Helms