Brand Marketing
Bars And Nightclubs Logo Design
Get great-looking designs that turn heads, build credibility and help you stand out from the pack.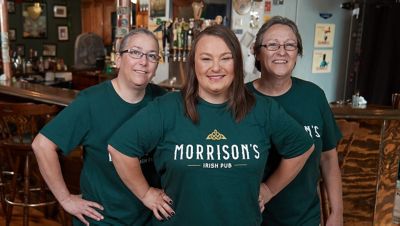 Raise a glass to your brand
These days, everyone knows that a good first impression is essential. But in the hectic nightlife industry, how do you make sure your business stands out from the crowd?
Every bar, club or lounge needs to consider this — what makes your venue better than the one across the street? Why should patrons choose you for happy hour, ladies' night or dance the night away? To avoid waiting in line with your competitors, jump to the front of the list with an outstanding logo. As the face of your business, a stellar logo can take you from GA to VIP.
What makes a successful bar or nightclub logo?
Going out for a drink, date or party is all about being social and having fun. Does your logo capture that spirit? When coming up with your design plans, consider how you will communicate who you are, what you offer, and why your clientele should choose you.
A wine bar, for example, may choose a color palette of rich burgundy reds, whereas a brewery or biergarten may opt for brighter shades of pale amber or gold. For bars or nightclubs, color options can span the spectrum, with variations from neon hues to deep tones — or straightforward black and white. Remember that color can have a large impact on how customers perceive your business, and that the ones you choose for your brand should be consistent across all your designs, whether they be digital or print.
Consistency is also key when it comes to your font choices and imagery. For a dive bar or sports bar, a casual typeface will translate well across your logo, signage, coasters and swag. A jazz club may consider how to incorporate imagery like a saxophone or musical note into their design, like replacing the "J" in "Jazz" with a cleverly sketched icon, but should consider how that icon will scale for both large and small uses.
A great logo will be perfectly balanced, and age well with time. Like a sidecar, martini or  manhattan, it should be a classic.
Why you need a professional design
There's a difference between the mashup your roommate created online sophomore year of college and a remix you hear on the radio. Just like you'd feature a professional DJ to headline on Saturday night, you should hire an expert to build your brand. That's where the team at Deluxe comes in. With years of experience, they'll put their expertise to work to ensure your new logo is perfect until last call — and the morning after.
Cheers to your logo — now show it off
Your final design is guaranteed to be a showstopper and scaled to fit any format or size. Display it to new and existing customers by putting it on your signage, menus, business cards, placards, website, social media, banners, uniforms, coasters and more.
Business Cards
Website
Promotional Merchandise
Company Vehicles
Printed Marketing Material
Labels & Stickers
Workwear
Banners & Signage
Get a unique logo design that's perfect for your business
Our experienced designers take the time to understand your business. They'll craft an original logo that best represents your company on all channels — your website, business cards, letterhead, storefront and company vehicles, to name only a few. Each package includes multiple revisions so the final design is 100% perfect.
We know logo design
Get the perfect logo for your brand, whether you build it yourself or let us create one for you.
We champion small business
With a $300 loan and an idea, Deluxe got its start like many small businesses. We value entrepreneurship, and empower companies to grow.
We are trusted
4.5 million customers have put their faith in our products and services. We've been earning the trust of owners since 1915.
TESTIMONIALS
What our customers say about our work
We looked at several different sites to help us draw up our logo, and finally decided to go with Deluxe. Our decision was based on the items included in the packages they offered, pricing, and seeing some of the sample logos they had designed. We sent in some sample ideas of elements we would like included in our logo, and after a couple of phone calls with the project manager our design was under way. It took a little under 4 days, and we just received our logo. We were blown away!! They really listened to the ideas we had, and even tweaked a few to make the logo that much more impressive. The package we chose offered unlimited revisions, but we didn't want ANY! We loved the very first design they sent. We had a picture in our head of what we wanted the design to look like, and this exceeded our expectations. We couldn't be happier!
The Bearded Lady Bottle Shop