Brand Marketing
Childcare Logo Design
Get great-looking designs that turn heads, build credibility and help you stand out from the pack.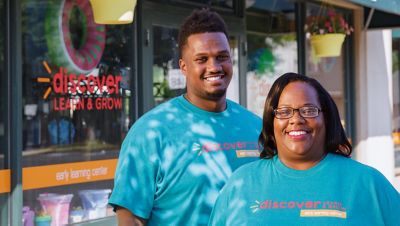 Get a logo that helps your kid-friendly business grow
Presenting the right image is extremely important when children's products or services are your area of expertise. Reliability, integrity and love of children are just a few of the qualities you need to project. Parents want to place their children in an environment that's nurturing, safe and fun — all qualities that the right logo can, and should, convey.
What makes a successful children and child care logo?
Although adults are the customers actually hiring you, your logo should exude a youthful, energetic spirit. The instant anyone looks at the graphic, it should immediately be apparent that your business is kid-friendly. At the same time, the design must inspire trust and be a reflection of your competence. In order to strike that perfect balance between levity and professionalism, you'll need to put some real thought into how you use color, imagery and typography in your design.
Bright, multicolored logos are the standard for businesses that cater to children.  When used together, orange, yellow and red in particular can convey a sense of playfulness that works well for discovery and play cafes, children's fitness centers, indoor bounce house facilities, summer camps and other high-energy enterprises. Counseling centers and tutoring services can also go for the full kaleidoscope effect, but a more subtle palette may project a tone better suited to that important work.  
Alphabet blocks, sunbursts, stars and trees are popular iconography within the child-related industries. From "mommy and me" groups to community centers, images that signify growth, light and fun will serve you well. However, you may want to consider a symbol that speaks specifically to your business's mission. To do this, think about differentiators. What's your story? Do you operate a multilingual day care or preschool? Do you employ the Montessori learning methodology? Focusing on what makes you unique will help you come up with imagery that stands out.
While decorative fonts may be inappropriate for many industries, they can actually bring a kid-friendly logo to life. Just make sure that the text doesn't undermine your messaging. If you operate a child development center, for example, you probably won't want to use a wacky font. With all design elements, remember to stay true to the voice and persona of the services you provide. 
Why professional logo design?
A strong logo attracts new customers, establishes trust and builds loyalty. It can influence the way people view your business — for better or worse. Would it make sense to entrust such an important part of your brand to an amateur?
A Deluxe logo specialist approaches your design with the same kind of care that you approach your work, taking the time to learn your company's story. After you fill out a creative brief and share your ideas and style preferences, your designer will discuss fonts, colors and imagery with you. Then, together, you revise it until it's perfect. Guaranteed.
Put your logo where it looks best: everywhere
Deluxe designs are crafted to be legible at every size, so once you get your new logo, you'll be able to put it everywhere that your customers can see: T-shirts, banners, uniforms, vehicles, website, business cards, facilities, stationery and more.
Business Cards
Website
Promotional Merchandise
Company Vehicles
Printed Marketing Material
Labels & Stickers
Workwear
Banners & Signage
Get a unique logo design that's perfect for your business
Our experienced designers take the time to understand your business. They'll craft an original logo that best represents your company on all channels — your website, business cards, letterhead, storefront and company vehicles, to name only a few. Each package includes multiple revisions so the final design is 100% perfect.
We know logo design
Get the perfect logo for your brand, whether you build it yourself or let us create one for you.
We champion small business
With a $300 loan and an idea, Deluxe got its start like many small businesses. We value entrepreneurship, and empower companies to grow.
We are trusted
4.5 million customers have put their faith in our products and services. We've been earning the trust of owners since 1915.
TESTIMONIALS
What our customers say about our work
I feel so much better about going ahead with my business now that I have such a professionally designed logo. Everyone was very attentive to what I wanted, and the price was excellent.
Mac Mcgill
This is the third logo that Deluxe has done for me. All three times they have done a great job!! I get compliments on my other logos all the time, and I know it will be the same with this one.
Samitha Givens
From beginning to end. The customer service was excellent. I appreciate the creativity, patience & worth ethic of the artists!
Leon Robinson