Brand Marketing
Chiropractor Logo Design
Get great-looking designs that turn heads, build credibility and help you stand out from the pack.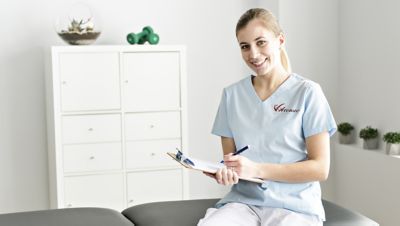 Align your brand strategy with a powerful logo
Patients seeking chiropractic services are looking for safety, reliability and relief. What do they find when see your logo? If it's a strong design, it telegraphs those qualities in mere seconds. If it's a less-than-successful design or one so generic it could apply to nearly any practitioner in your area, it will have significantly less impact. Your logo is your first, best chance to make a good impression — and to set yourself apart from the competition.
Additionally, it sets the tone for all of your branding efforts, helping determine everything from your color scheme to how you and your staff talk about your services.
What makes a successful chiropractic logo?
Chiropractors' focus on the healing arts, particularly as they relate to the neck and back, helps inform logo design choices. Unsurprisingly, stylized depictions of the head, neck, back, spinal column and vertebrae are common in chiropractic designs. Common, however, does not mean they shouldn't be used — professional designers can always find new ways to depict these relevant symbols. The key is depicting them in a way that's meaningful to your practice, and memorable to patients.
Color is important as well. Green and blue are often tied to services related to health practitioners: green because it signals healing, rejuvenation and balance, and blue because it indicates serenity, efficiency and trust. These aren't the only colors available to you, of course. Red signals movement, determination and energy, while white implies safety and perfection. Depending on the impression you want to make and the types of patients you're targeting, nearly any color may be appropriate.
At its base, a strong logo for your business is the one that is exclusively for you. Off-the-shelf designs that simply slot in your name cannot compare to custom designs crafted by experts who understand the priorities and values of your brand. The right design is the one that perfectly and professionally mixes colors, typography and imagery in a way that instantly tells prospective patients who you are, what you do and why they should choose you. Ultimately, it's the best and quickest way to show you're a professional, reputable expert in the chiropractic field.
Why you need a professional design
Not just anyone can create a successful brand emblem. It takes designers years of honing their craft to master distilling a company's values and services into a versatile symbol that may appear on everything from physical buildings to a website to business cards.
At Deluxe, our experienced design team is dedicated to creating one-of-a-kind concepts for chiropractic businesses like yours. By listening to your specific needs and ideas, they work with you to craft a memorable, attractive design that instantly speaks of your quality and expertise. With multiple revisions built into each of our logo packages, you're guaranteed, at the end of the process, to get a logo that you love. 
Put your logo where it looks best: everywhere
The Deluxe team works to ensure your logo looks great anywhere: on your website, business cards, stationery, appointment reminders, emails, uniforms, office space, brochures and more — everything that your patients come into contact with.
Business Cards
Website
Promotional Merchandise
Company Vehicles
Printed Marketing Material
Labels & Stickers
Workwear
Banners & Signage
Get a unique logo design that's perfect for your business
Our experienced designers take the time to understand your business. They'll craft an original logo that best represents your company on all channels — your website, business cards, letterhead, storefront and company vehicles, to name only a few. Each package includes multiple revisions so the final design is 100% perfect.
We know logo design
Get the perfect logo for your brand, whether you build it yourself or let us create one for you.
We champion small business
With a $300 loan and an idea, Deluxe got its start like many small businesses. We value entrepreneurship, and empower companies to grow.
We are trusted
4.5 million customers have put their faith in our products and services. We've been earning the trust of owners since 1915.