Brand Marketing
Cleaning & Maintenance Logo Design
Get great-looking designs that turn heads, build credibility and help you stand out from the pack.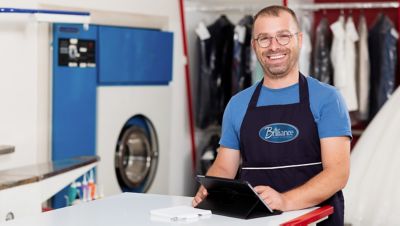 Clean up with the right logo
As a cleaning or maintenance business, your job is to make sure that your clients' properties look their best. The same standard should apply to your business logo. And because potential customers will be inviting you into their homes, they'll need to know that you're professional and thorough. A well-designed company emblem will help establish a sense of trust and entice people looking for your services to connect with you.
What makes a successful cleaning and maintenance logo?
Whether you provide maid service or general handyman work, the goal of your logo is the same: to tell customers who you are in an instant. The best design for your business is a thoughtful mixture of design elements such as text, imagery and color.
The right typeface for your design must first and foremost be legible — the style shouldn't make it difficult to read your company name. But it should also align with your brand's image. For example, decorative script with swirls and curlicues may not be the best choice for janitorial, home repair or industrial cleaning services. Serif fonts, on the other hand, are professional, clean and modern and will work for many businesses.
After landing on the perfect typeface, start thinking about imagery. Popular industry symbols include wrenches, sparkle graphics and simplified illustrations of houses. But remember, if you choose to use any of these symbols, be sure to add an original spin that reflects your business's personality. Consider a hand drawn illustration, for instance, or a hidden image in a negative-space design. The last thing you want is a brand symbol that looks like generic clip art.
When you're ready to select your color scheme, remember that every color has a set of commonly accepted cultural connotations. Ideally you will pick colors that are not only visually appealing to you, but also are linked to your company's personality and services. Blue, for example, is an obvious choice with its connections to water and cleanliness. And because the color also symbolizes efficiency and reliability — two qualities that you'd presumably want clients to associate with your company — it's especially fitting. You might also consider choosing a color that hints at the qualities that make your services unique. Do you specialize in green cleaning or use eco-friendly products or methods? If so, why not incorporate some green into your design? Whatever message you'd like to communicate about your brand, there's a color that can help you say it, so be sure to do some research before you make your final decision. 
Why professional logo design?
When your business is all about cleaning and maintenance, you can't advertise your services with a sloppy logo. Clean, easy-to-read and memorable brings in customers — and that's just what Deluxe's logo experts bring to the table. We'll work with you to create a professional logo design that gets you noticed, gets you remembered and gets you new customers.
Put your logo where it looks best: everywhere
Your new design will be scalable, which means that you can put it anywhere your customers can see it: on your vehicle, business cards, uniforms, billing documents, your website and more.
Business Cards
Website
Promotional Merchandise
Company Vehicles
Printed Marketing Material
Labels & Stickers
Workwear
Banners & Signage
Get a unique logo design that's perfect for your business
Our experienced designers take the time to understand your business. They'll craft an original logo that best represents your company on all channels — your website, business cards, letterhead, storefront and company vehicles, to name only a few. Each package includes multiple revisions so the final design is 100% perfect.
We know logo design
Get the perfect logo for your brand, whether you build it yourself or let us create one for you.
We champion small business
With a $300 loan and an idea, Deluxe got its start like many small businesses. We value entrepreneurship, and empower companies to grow.
We are trusted
4.5 million customers have put their faith in our products and services. We've been earning the trust of owners since 1915.
What our customers say about our work
The logo design team from the beginning to the very end was very professional, understanding, and patient. The team gathered information regarding what our vision was and took charge. The logo turned out exactly what we were looking for and really represents our small business.
Lisa Ince
From the beginning to end, the Deluxe design team delivered. The entire process was simple and smooth. The team was very efficient and creative with helping design my personal logo.
Theodore Crawford
Very pleased with my new logo design and business cards. Deluxe did an awesome job and the process was much easier and affordable than expected.
Andrew Jenkins