Brand Marketing
Communications Logo Design
Get great-looking designs that turn heads, build credibility and help you stand out from the pack.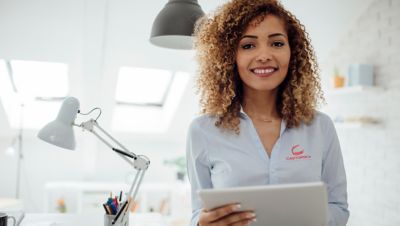 A logo that sends a clear signal to clients
That importance of clear and concise communication cannot be overstated. But is your logo undermining your efforts? When communications expertise is the hallmark of your entire brand, don't let a weak or generic logo — or even worse, none at all — inadvertently tell potential clients you're the wrong choice for them.
Communications is a 24/7, global business. In this fast-paced environment, mere minutes can mean the difference between success and failure. Your branding needs to instantly set you apart from the competition, tell clients who you are and what you do, and start them on the path to contacting you. A great logo does this in fewer than five seconds. Don't send potential clients mixed signals with something that's unoriginal, unmemorable or unprofessional.
What makes a strong communications logo?
The strongest logos are the ones that can belong only to the companies for which they were designed. No generic wordmarks or hastily pulled-together clip art need apply. Every aspect of your emblem, from color to typography to imagery, must work in perfect cohesion to tell your company's story.
Because communications is such a diverse field, design options are virtually limitless. Imagery can range from traditional pictorial shorthand for broadcasting (radios and radio waves, antennas, satellite dishes and so on) to more stylized or even abstract graphics. If your specialties include PR and crisis management, a design nodding to your speed and professionalism may be in order.
Don't discount the importance of color, which often speaks louder than words. Depending on the nature of your services, nearly any color of the spectrum might be a good choice. Consider the associations people make with certain shades — intelligence with blue, passion with red, warmth with orange, optimism with yellow, to name a few — and choose accordingly. The more colors you use, however, the harder and more expensive it will be to print your logo. Most experts recommending limiting your logo to one or two colors, or even opting for a striking black and white design.
Last but certainly not least, put thought into the typeface you use. As with colors, less is more, so resist the urge to mix several different styles. Fonts convey certain connotations you may wish to associate with your brand: Serif fonts speak to tradition and stability; sans serif type indicates modernity and forward thinking; scripted typefaces are elegant and luxurious.
Why you need a professional design
With everything that goes into creating a successful logo, the design process itself may appear daunting or difficult to even start. It doesn't have to be. The world-class logo designers at Deluxe have years of experience crafting unique designs for their clients. They learn about your business and services, and apply that knowledge to multiple unique concepts representing your company, and your company alone. Choose the one that best reflects you, and refine it with the design team until it's perfect. In many cases, initial concepts are ready in as soon as five days.
Show off your completed design everywhere
Your logo from Deluxe is scalable, so it's attractive and displays perfectly no matter how large or small you reproduce it. It's meant to go everywhere the public may see it: on buildings, websites, social media, business cards, letterhead, proposals, emails, brochures and marketing materials, vehicles, apparel, billboards, benches, print ads and so on.
Business Cards
Website
Promotional Merchandise
Company Vehicles
Printed Marketing Material
Labels & Stickers
Workwear
Banners & Signage
Get a unique logo design that's perfect for your business
Our experienced designers take the time to understand your business. They'll craft an original logo that best represents your company on all channels — your website, business cards, letterhead, storefront and company vehicles, to name only a few. Each package includes multiple revisions so the final design is 100% perfect.
We know logo design
Get the perfect logo for your brand, whether you build it yourself or let us create one for you.
We champion small business
With a $300 loan and an idea, Deluxe got its start like many small businesses. We value entrepreneurship, and empower companies to grow.
We are trusted
4.5 million customers have put their faith in our products and services. We've been earning the trust of owners since 1915.
What our customers say about our work
Deluxe was super helpful in every step of this process, from inception of the initial creative ideas to the refinement of the final logo. They took the time and went through just the number of iterations my logo needed to get it right.
John Connolly