Brand Marketing
Community & Non-Profit Logo Design
Get great-looking designs that turn heads, build credibility and help you stand out from the pack.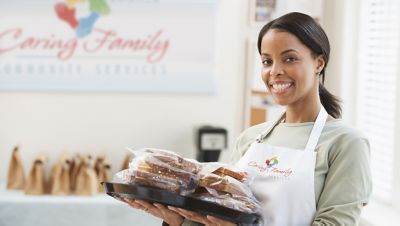 Raise awareness with a standout logo
Three of the biggest challenges facing many nonprofits and community businesses are: how to find donors and raise money, how to drive awareness for your cause and how to expand your impact. Unsurprisingly, with so many shared challenges, it can also become a challenge to stand out among the many organizations in the market.
To set yourself apart, look no further than your logo. This essential bit of branding is well worth your consideration. In a glance, it communicates who you are and what you do, and makes that all-important positive first impression.
What makes a successful community or nonprofit logo?
A great brand creates a lasting visual identity. But what goes into creating that eye-catching look that makes supporters feel good and come back for more?
For most NPOs and community-centered businesses, imagery is key. Designs center around humanity, connection and approachability. For a hunger-relief charity, for example, images might include an apple, one of the most recognizable and basic foods. For an organization with a worldwide reach or mission, the globe or a map of the continents are a powerful background for the rest of your emblem. Evocative illustrations such as hands, hearts and open arms can paint a picture of inclusion of openness without taking away from the other features of your design.
When you are ready to consider typography, keep in mind that sometimes simplicity is best. Within the philanthropic community, fancy fonts, flowery typefaces and elaborate script may be out of place. A clean and honest font, like one from the sans serif family, is best.
So how do you combine a memorable image with a straightforward typeface to create a unified and impactful logo? The color palette you choose for your brand not only helps to add some brightness to your design, but it can also tie your creation together. Consider cool hues of blues and greens — they're perfect for an environmental organization, and can be used from your logo to your website and everything else in between. Brighter colors might be a natural fit for a children's cause. A best practice is to select one to two main colors for your design; keep in mind that using too many colors makes printing your logo more expensive. And always consider how your emblem will look in black and white.
Why you need a professional design
So how do you determine who's the right person, or persons, to help you create that lasting image for your cause? While you might look to volunteers to help with the day-of running of an event, you still rely on a team of experts to help create, implement and facilitate your fundraiser. That's where Deluxe Logo Design comes in. Our team of experts will work with you from the beginning of your creative brief, all the way until you have a final logo design — one you're as passionate about as your nonprofit's mission.
Spread your branding message everywhere!
Just like you spread your organization's mission and messaging to volunteers, donors, and your local community and networks, be sure to share your new design with them as well! Put your new brand on your website, emails, business cards, pamphlets, hats, T-shirts, stickers, buttons, social media, letterhead, fundraising mailers and more.
Business Cards
Website
Promotional Merchandise
Company Vehicles
Printed Marketing Material
Labels & Stickers
Workwear
Banners & Signage
Get a unique logo design that's perfect for your business
Our experienced designers take the time to understand your business. They'll craft an original logo that best represents your company on all channels — your website, business cards, letterhead, storefront and company vehicles, to name only a few. Each package includes multiple revisions so the final design is 100% perfect.
We know logo design
Get the perfect logo for your brand, whether you build it yourself or let us create one for you.
We champion small business
With a $300 loan and an idea, Deluxe got its start like many small businesses. We value entrepreneurship, and empower companies to grow.
We are trusted
4.5 million customers have put their faith in our products and services. We've been earning the trust of owners since 1915.