Brand Marketing
Construction & Contractor Logo Design
Get great-looking designs that turn heads, build credibility and help you stand out from the pack.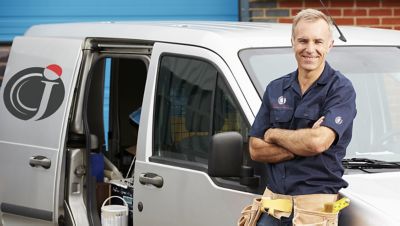 A strong logo is the foundation of your entire brand
Whether you're renovating an existing brand strategy or building one from the ground up, a strong logo is the anchor that holds everything together. Imagine the impression a beautifully constructed building makes on a first-time viewer. In an instant, it comes across as attractive, sturdy and professional. Likewise, your logo is the first interaction a client has with your business, and it should just as quickly catch the eye with its depiction of your professional and reliable services. Once you're equipped with a strong logo, you can construct an entire strategy around it, and build your customer base to greater heights.
What makes a successful contractor or construction logo?
A strong logo tells clients who you are, what you do and why they should choose you — all in the briefest glance. The best examples are unique to the specific businesses they serve, and wouldn't be nearly as successful for other companies. Several factors contribute to a strong design, but chief among them are color, typography and imagery.
Color, with its subconscious messaging, is perhaps the first aspect to get right. The services you provide help determine the color scheme most appropriate to your business. Black indicates luxury, sophistication, security and safety. Browns and greens both nod to nature, with brown adding warmth and comfort, and green contributing a sense of renewal and environmental friendliness. Blue stands in for expertise and knowledge, and red adds a dash of passion and energy. Yellows and oranges, when artfully applied, can add warmth and excitement.
Typography also communicates to the viewer. Traditional, serif fonts indicate comfort and classic aesthetics. Modern, sans serif fonts convey style, stability and progressive thinking. Scripted fonts speak of elegance and creativity. Depending on the types of services your company provides, one of these typography choices may be better than the others.
Also consider the image or graphic you want to use. Whether it's a stylized representation of the types of projects you work on, or a play on the letters in your name, a non-verbal symbol sometimes communicates better than words alone. This is where focusing on your specific services is especially important. A construction company that does large-scale commercial projects like parking garages and shopping centers will want to use different imagery than a one-person contracting service that specializes in home renovations or additions.
Why you need a professional design
The logo design process can seem daunting, but it doesn't have to be. Working with a professional design team, such as Deluxe's experts, makes it a much smoother process with a guaranteed result. At Deluxe, our designers familiarize themselves with your contracting or construction business. What they learn about you, your services and the jobs you want to attract all helps guide their design concepts. Through multiple revisions, together you and the design team finalize the logo that stands for your company, and stands out from the competition's.
Put your logo where it looks best: everywhere
Your final design, besides being unique to your business, needs to look good everywhere you put it. That's why the Deluxe experts make sure your logo is attractive at any size, big or small. It needs to be perfect for your website, business cards, letterhead, proposals, uniforms, hats, equipment, vehicles and more — everything that your customers see.
Business Cards
Website
Promotional Merchandise
Company Vehicles
Printed Marketing Material
Labels & Stickers
Workwear
Banners & Signage
Get a unique logo design that's perfect for your business
Our experienced designers take the time to understand your business. They'll craft an original logo that best represents your company on all channels — your website, business cards, letterhead, storefront and company vehicles, to name only a few. Each package includes multiple revisions so the final design is 100% perfect.
We know logo design
Get the perfect logo for your brand, whether you build it yourself or let us create one for you.
We champion small business
With a $300 loan and an idea, Deluxe got its start like many small businesses. We value entrepreneurship, and empower companies to grow.
We are trusted
4.5 million customers have put their faith in our products and services. We've been earning the trust of owners since 1915.
What our customers say about our work
Deluxe was easy to work with. Response was quick. They quickly gained my trust. The logo design that caught my eye only took one revision. I'm 100 percent satisfied with my logo and will use to represent who I am and what I believe in.
Michael O'Donnell
Having Deluxe design my logo has been the best thing I've ever done. You guys have been incredible to work with. Your service has been unbeatable and the designs are outstanding. You were always there and ready to answer any question and change any aspect of the logo I desired. I feel honored to have you guys build my logo that will represent our company.
Amanda Steed
Loved the innovative and creative logo designs that we were presented with. We had a difficult time deciding because they were all so good.
Kim Stanfield