Brand Marketing
Beer & Brewery Logo Design
Get great-looking designs that turn heads, build credibility and help you stand out from the pack.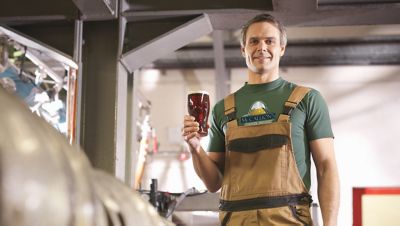 Brew up more business with a strong logo
You know how amazing that first taste is. If you could get every beer lover in your area to try the artisanal ales you're creating, it'd be love at first sip. You could probably even convert some of those who skip the stout or are normally indifferent to an IPA.
Because giving everyone a taste is impossible, what's the best way to snag those future fans? With a snappy logo that says who you are, what you do and why they should care. In a matter of seconds — less time than it takes to open a cold one — a strong logo tells customers present and future that your brewery, beer hall or beer garden is the one they're looking for.
What makes a successful beer or brewery logo?
Think about the products you offer and the services you provide. Do you have the richest porters and the hoppiest ales? Is your microbrewery a model of sophistication and taste — plus you offer tours? Do you boast the most sun-drenched patio, the best evening events, the most popular trivia nights, the cleverest name or a shelf full of brewers' awards?
Use that unique angle as the stepping-off point for your entire brand. The best logo for you is the one that works exclusively for your business. It should identify you and set you apart from others in the industry. It should make a potential customer want to choose you, not your neighbors down the street or elsewhere in the refrigerator case.
Fortunately, the world of beer and brewing is especially conducive to engaging logos and branding. There's no limit on the styles, colors, imagery and typography you can use. For many beverage companies, bright and loud logos are the right choice, particularly for packaging that stands out in a crowded marketplace. Font choices can range from traditional to modern to outright wacky. And your imagery can encompass just about anything, from the more traditional grains and hops to depictions of animals, scenic locales, objects or even characters who represent your drinks.
Think, too, about the clientele you're looking to attract. A beer bar in a sports stadium or near a college campus wants to send a very different message from an urbane brewpub appealing to a sophisticated happy hour crowd. An experimental microbrewery with unexpected flavor profiles might position itself as an avant-garde industry leader, while a neighborhood watering hole takes pride in the easy comfort of its casual venue. Knowing your "sweet spot" when it comes to who your customers are helps direct the rest of your logo design process.
Whether you're pulling pints or serving up artisanal ales, when it's time for last call, your logo needs to be a reflection of what your business is. And it should deliver the same good feeling that comes from drinking your beverages.
Why you need a professional design
Craft your logo with the same care and attention to detail that you put into your libations. It takes time, study and experimentation to get your beers exactly right. The same goes for logo design, which is why you don't want just anyone to handle it for you.
The Logo Design team at Deluxe have spent years perfecting their craft. They understand what a logo needs to do, how it needs to communicate and how to implement the most current best practices. They'll take the time to get to know your business, and they'll work with your ideas to create a logo design that's both striking and effective — one that you'll proudly want to display in front of and behind the bar.
Put your logo where it looks best: everywhere
Your Deluxe logo is perfected through the revision process so it's attractive and legible at any size. Put it everywhere: on labels, packaging, menus, your website, business cards, social media, uniforms, hats, vehicles, glasses and barware, beer taps, kegs, napkins and more.
Business Cards
Website
Promotional Merchandise
Company Vehicles
Printed Marketing Material
Labels & Stickers
Workwear
Banners & Signage
Get a unique logo design that's perfect for your business
Our experienced designers take the time to understand your business. They'll craft an original logo that best represents your company on all channels — your website, business cards, letterhead, storefront and company vehicles, to name only a few. Each package includes multiple revisions so the final design is 100% perfect.
We know logo design
Get the perfect logo for your brand, whether you build it yourself or let us create one for you.
We champion small business
With a $300 loan and an idea, Deluxe got its start like many small businesses. We value entrepreneurship, and empower companies to grow.
We are trusted
4.5 million customers have put their faith in our products and services. We've been earning the trust of owners since 1915.