Brand Marketing
Dental Logo Design
Get great-looking designs that turn heads, build credibility and help you stand out from the pack.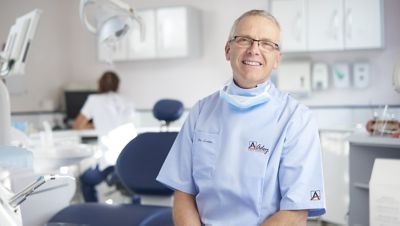 Get a logo that brings smiles to patients' faces
It's no secret that many people, when planning a visit to a dentist, orthodontist, periodontist, oral surgeon or other dental professional, brace themselves for a potentially uncomfortable experience.
A strong logo helps assuage those fears. At a glance, it should convey professionalism, friendliness and warmth. On the other hand, it could signal that a dental office is disorganized, provides painful service or simply is not reputable enough to contact.
Dental professionals understand how far a healthy, bright smile goes in creating an excellent impression. A logo is no different — for all intents and purposes, it is the smile that welcomes new and returning patients to a dental practice.
What makes a successful dental or oral healthcare logo?
Remember that a logo is often the first contact a customer has with a business. It is no different for providers of dentistry and other oral healthcare services. A successful logo — designed by an expert who understands your practice — tells patients and prospective patients that you provide top-of-the-line care in a professional and comforting environment.
Color is also important. Warm, bright colors like yellows and oranges say the dental practice is friendly and inviting. Blue and black signify expertise and fluency with the most cutting-edge dental practices. Green indicates health and renewal. These are not the only shades available to oral health practitioners, of course, but they are very common in dentistry-related logos.
For obvious reasons, teeth often factor into the design. But how those teeth are graphically represented says a lot about the practice behind it. Teeth with smiling faces or other cartoon-like attributes are common for family or pediatric dentist practices. Something slicker and more stylized may be appropriate for cosmetic dentistry or other elective services for adults. Teeth with braces often symbolize orthodontic practices
Why you need a professionally designed logo
Of course, teeth imagery doesn't need to show up at all; just because the smiling cartoon tooth is common doesn't mean it's right for you. A professional designer offers myriad other concepts that might be more appropriate to your practice. The expert designers at Deluxe take the time to learn about your practice and how it operates. Then they create a design that conveys to customers what you do and accurately reflects your principles and values. Your finished logo builds trust in your practice, creates a connection with your patients, and proudly represents you, your technicians, hygienists, assistants and other staff. In fact, not having a professional logo is as detrimental as going through life without ever smiling.
Put your logo where it looks best: everywhere
Our professional designers ensure your design is effective and legible at any size. After all, it will appear in your office and on your business cards, letterhead, billing materials, emails, appointment reminder cards — everything that your patients come into contact with.
Business Cards
Website
Promotional Merchandise
Company Vehicles
Printed Marketing Material
Labels & Stickers
Workwear
Banners & Signage
Get a unique logo design that's perfect for your business
Our experienced designers take the time to understand your business. They'll craft an original logo that best represents your company on all channels — your website, business cards, letterhead, storefront and company vehicles, to name only a few. Each package includes multiple revisions so the final design is 100% perfect.
We know logo design
Get the perfect logo for your brand, whether you build it yourself or let us create one for you.
We champion small business
With a $300 loan and an idea, Deluxe got its start like many small businesses. We value entrepreneurship, and empower companies to grow.
We are trusted
4.5 million customers have put their faith in our products and services. We've been earning the trust of owners since 1915.
What our customers say about our work
Working with Deluxe to create our website was far easier than I anticipated. They went out of their way to create an image that we had in mind for our web presence. They were very informative and always cheerful to deal with.
Becky Goolsby
Very easy process. Very helpful staff. I worked with one person, who helped me through the whole process. Makes me ask myself why I waited so long.
John T Zaffer