Brand Marketing
Entertainment Logo Design
Get great-looking designs that turn heads, build credibility and help you stand out from the pack.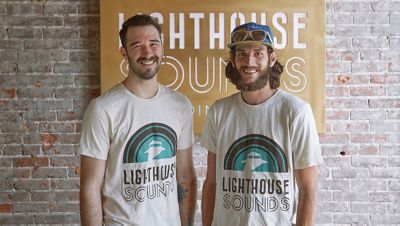 Image is everything, so make sure yours resonates
The entertainment industry is built on promising an enjoyable, and in many cases emotional, experience for audiences. No cookie-cutter or boring logo will do. The right logo for your business announces to customers that they're in for a memorable, often fun, sometimes moving encounter with your products or services. For B2B entertainment companies, it tells clients you possess the professional expertise they need. Whether you produce music, offer comedy shows, own an amusement park, travel with a circus or do anything else related to the entertainment industry, you need a logo that makes an immediate connection with your customers.
Nowadays, customers have nearly unlimited entertainment options to choose from, so why should they pick you? A strong logo is the best, fastest way to answer that question.
What makes a strong entertainment logo?
"Fun" may be the first aspect that comes to mind when thinking of entertainment-related designs. Bright colors, unusual fonts and playful imagery all contribute to a sense of merriment. A dance studio, art studio or birthday party destination may employ a whimsical design to attract kids and families to their services.
That said, fun may not be the most appropriate association for everyone involved in show business or entertainment. A rock band, for example, may not want a kid-friendly emblem. Press and publicity agencies, effects or makeup studios, and production houses may prefer to target a professional clientele. In these cases, dark shades, clean lines and modern typefaces may be more relevant to the sophistication and technological prowess of your brand.
Regardless of what your business is, a successful logo design is one that instantly catches the viewer's eye and says who you are and what you do. Most important, it's unique to you. A strong design only works well for the company for which it was created; it would be a bad fit for any other. Does yours pass this test?
Why you need a professional design
Because "entertainment" covers such a wide variety of industries and services, the amount of choices for a logo may seem overwhelming. A professional designer helps narrow down those options by focusing on what's at the heart of your brand. Whose attention are you trying to capture, what do you want to say to them, and what sets you apart from your competitors?
The Deluxe design team finds the answers to these questions by listening to you. They get to know your brand and your services, and with their years of experience, they suggest concepts that incorporate your ideas and even expand them in new directions. Through the revision process, together you and the design team determine which colors, fonts and imagery make up the best "face" for your business.
Show the face of your business everywhere
Your Deluxe-designed logo is guaranteed to look perfect everywhere you use it: on your website, business cards, stationery, emails, office space, vehicles, equipment and more — anything your clients and customers see.
Business Cards
Website
Promotional Merchandise
Company Vehicles
Printed Marketing Material
Labels & Stickers
Workwear
Banners & Signage
Get a unique logo design that's perfect for your business
Our experienced designers take the time to understand your business. They'll craft an original logo that best represents your company on all channels — your website, business cards, letterhead, storefront and company vehicles, to name only a few. Each package includes multiple revisions so the final design is 100% perfect.
We know logo design
Get the perfect logo for your brand, whether you build it yourself or let us create one for you.
We champion small business
With a $300 loan and an idea, Deluxe got its start like many small businesses. We value entrepreneurship, and empower companies to grow.
We are trusted
4.5 million customers have put their faith in our products and services. We've been earning the trust of owners since 1915.
TESTIMONIALS
What our customers say about our work
All the designs we were presented with were fabulous. The final logo was exactly like we had hoped it would be. Everyone we worked with was great and the turnaround was equally great.
Kristie Secrist
I am glad I went to Deluxe. They were all friendly and the service was fast. The logo was great, and it took only one round to get the design down.
Michael Joye
My experience with Deluxe has been positive all around. They listen, respond, and do whatever they can to make the process simple. Thank you!
Larry Diaz