Brand Marketing
Hairdressers & Barbershops Logo Design
Get great-looking designs that turn heads, build credibility and help you stand out from the pack.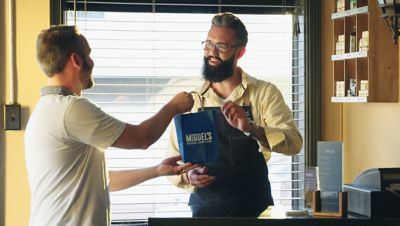 Get a logo that's a cut above the rest
Scheduling an appointment with a new hairdresser or barber can be a nerve-wracking experience for a customer. As a hair care professional, you need to assuage these fears by demonstrating that you're competent, creative and honest. A strong logo has the power to communicate all of these qualities in the blink of an eye.
What makes a successful hairdresser or barbershop logo?
A well-designed logo immediately tells people who you are while encouraging your target audience to reach out to you. Do you braid, apply extensions or dye hair? Can you handle diverse hair textures and styling needs? Do you offer additional premium services like hot lather shaving or massages? Through elements like color, typography and imagery, the right brand emblem will hint at your area of expertise while giving potential clients a sense of what they can expect when they enter your shop.
Your color scheme should reflect your salon's or barbershop's personality. So think hard about the image that you want to project, and then select your palette accordingly. Bright colors like yellow and orange are playful and energetic; purple is said to symbolize imagination and wisdom; and red is youthful and bold. Black, which connotes elegance and authority, is also popular with stylists and barbers, but you should feel free to pick a palette that you think best represents your brand. Just remember that every color carries a set of cultural and psychological associations with it. If, for example, you want people to associate your salon or barbershop with luxury or pampering, think about incorporating gold.
As for the actual emblem, many hairdressers and barbers have had great success with minimalist wordmarks (think Vidal Sassoon and Frédéric Fekkai), but that doesn't mean you have to follow suit. A simple iconographic logo featuring a unique and creative symbol may be just what your shop needs to stand out. Common images within the hair care industry include scissors, combs and barber poles. But if there is a specific or personal icon that reflects your company's story or identity, incorporate it into the design.
If you do prefer the straightforward simplicity of a wordmark, it's still possible to subtly demonstrate what makes you special through text. A traditional barbershop might want to consider a vintage-inspired serif font, which has a more classic look. Sans serif fonts, on the other hand, are considered modern, and could be a great fit for someone who specializes in cutting-edge or high-fashion styles.
As you make these design decision, remember that your logo is the chief visual element of your business. Before anyone gets a chance to view your work, your logo is your first opportunity to set yourself apart. Even if you ultimately end up going with a minimal design, the final version should be a symbolic representation of your brand.
Why you need a professional design
Although anyone can cut or style hair, not everyone can do it well. It takes training and practice to become a qualified hairdresser or barber, and the same is true for logo design. The professionals at Deluxe have years of experience and are well-versed in the latest trends and techniques. After learning about your business goals and background, a logo specialist will work one-on-one with you to create an attractive graphic that creates a lasting impression.
Put your logo where it looks best: everywhere
Your new design will look great at any size. So put it on your portfolio, social media accounts, website, shop window, business cards, smocks and anywhere else clients might see it.
Business Cards
Website
Promotional Merchandise
Company Vehicles
Printed Marketing Material
Labels & Stickers
Workwear
Banners & Signage
Get a unique logo design that's perfect for your business
Our experienced designers take the time to understand your business. They'll craft an original logo that best represents your company on all channels — your website, business cards, letterhead, storefront and company vehicles, to name only a few. Each package includes multiple revisions so the final design is 100% perfect.
We know logo design
Get the perfect logo for your brand, whether you build it yourself or let us create one for you.
We champion small business
With a $300 loan and an idea, Deluxe got its start like many small businesses. We value entrepreneurship, and empower companies to grow.
We are trusted
4.5 million customers have put their faith in our products and services. We've been earning the trust of owners since 1915.