Brand Marketing
Hotel & Hospitality Logo Design
Get great-looking designs that turn heads, build credibility and help you stand out from the pack.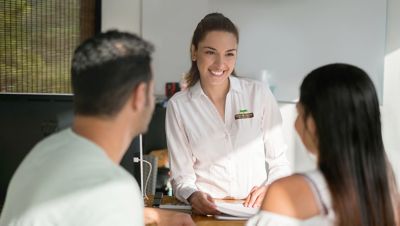 Welcome customers with a five-star hotel logo
Luxury resort or roadside inn, ultra-modern skyscraper or quaint bed & breakfast — if you're in the hotel and hospitality industry, you need to stand out from the competition. In many markets, travelers and trip-planners are overwhelmed by hotel and lodging options. To make sure they notice you, and that they like what they see, it's crucial to have a unique logo design that instantly communicates why your guest rooms are the ones they want to call their temporary home.
What makes a strong hotel or hospitality logo?
The best logos have carefully chosen typography, color and imagery that combine to form an unmistakable emblem for your hotel or hospitality business. Many hotels or event spaces use a stylized representation of their actual building; this works particularly well if your business resides in historic, architecturally notable or otherwise recognizable premises. For other venues, the graphic could be abstract or tied to the name or locale, or there might be no imagery at all.
Typography and text are important in all logos, but they're particularly crucial for hotels and hospitality companies. What you say, and how you display it, tells prospective customers much about you. Whether you're a chain with multiple facilities or a boutique with a single location, your name should be one of the most dominant aspects of the design, if not the most dominant. Additionally, use this space to quickly and clearly tell what you do. "Bed & Breakfast," "Golf Resort," "Country Club," and so on are all unmistakable descriptors. If you have a tagline or catchphrase, consider adding it in, particularly if your hotel is relatively similar to others nearby.
Don't forget to be careful with your typefaces. Fonts convey different feelings and associations to the reader. A serif font can impart feelings of tradition and history and elegance, while sans serif fonts are often associated with modernity and luxury. For a hotel that's friendly to kids, families and possibly even pets, something more playful or even wacky may be appropriate.
As a hotel or hospitality business, your choice of colors is nearly unlimited. Blues and yellows may nod to your beachfront location, or greens and browns may speak to the beauty of nature around you. Black is shorthand for luxury, and red, of course, evokes passion and strong feelings.
No matter which fonts, colors and images you choose, the goal is always the same: to make it easy for customers to mentally "check in" with you the moment they see your design. A great logo lets them envision the experience of staying with you before they ever set foot inside. It gives them the push they need to make a reservation.
Why you need a professional design
Being in the hotel and hospitality industry can be taxing, even for the most seasoned hoteliers. Yet because of your expertise and experience, you always manage to provide service with a smile, even to the weariest and most irritable travelers. Not just anyone can do what you do.
The same goes for determining the best way to get a logo, which is the cornerstone of your entire brand. Leaving it in the hands of a friend, relative or employee who dabbles in a little design on the side won't cut it. It's a smarter strategy and a better investment to hire a professional team. At Deluxe, our logo designers have spent years perfecting their craft and fully understand best practices and current trends. They'll take the time to understand how you operate your hotel business, and what values and services you want to convey to customers. They'll use your ideas as the starting point for a design that captures the heart of your hotel.
Put your logo where it looks best: everywhere
Your Deluxe-designed logo is created to be attractive and legible at any size. So put it everywhere: on your website, social media, buildings, vehicles, front desk, business cards, pens, pads, uniforms, laundry bags, bathrobes, slippers, toiletries, towels, cups, plates, gift shop and so on — everywhere your customers will see it.
Business Cards
Website
Promotional Merchandise
Company Vehicles
Printed Marketing Material
Labels & Stickers
Workwear
Banners & Signage
Get a unique logo design that's perfect for your business
Our experienced designers take the time to understand your business. They'll craft an original logo that best represents your company on all channels — your website, business cards, letterhead, storefront and company vehicles, to name only a few. Each package includes multiple revisions so the final design is 100% perfect.
We know logo design
Get the perfect logo for your brand, whether you build it yourself or let us create one for you.
We champion small business
With a $300 loan and an idea, Deluxe got its start like many small businesses. We value entrepreneurship, and empower companies to grow.
We are trusted
4.5 million customers have put their faith in our products and services. We've been earning the trust of owners since 1915.
What our customers say about our work
I loved working with Deluxe! They made my experience so nice and easy. They had a quick response time and were very professional. The customer service was a pleasure.
Shirley Storer
The whole process was efficient and very productive. My ideas were incorporated into a beautiful design that clearly conveyed my message. I believe the price for the services and product was clearly presented and very reasonable.
Marilyn Turner