Brand Marketing
Interior Design & Decorating Logo Design
Get great-looking designs that turn heads, build credibility and help you stand out from the pack.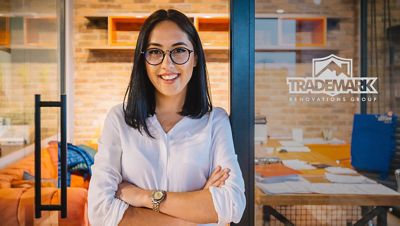 Here's the situation: 
You're a designer who needs to make a good, professional first impression on customers. You want to build trust in your capabilities.
Here's the solution: 
A logo that highlights your style while nodding to the elegant artistry of your industry. Your aesthetic, artistic judgment and professionalism should all come across in that one design.
A strong logo has the power to entice people to contact a business, and that's especially true for an interior designer or decorator.
Create your own decorator or interior design logo in three steps
1. Get graphic. An interior design logo should tell prospective clients your firm's direction in a single glance. As you sort through logo templates, look for one that reflects who you are as a brand. If your area of expertise is commercial spaces like office buildings or stores, then simple geometric shapes that evoke thoughts of architecture or floor plans are a good choice. If you work with kid-friendly or pet-friendly spaces, quirky or cute illustrations may be the way to go. No matter what, your graphic will make an impression, so make it a good one.
2. Articulate with style and text. To demonstrate your versatility or convey to clients that your work will be tailored to their lifestyle, consider skipping the heavily stylized flourishes, and stick to typefaces that are classic and readable. Some fonts that work well: Merriweather, Kelly Slab and Helvetica. These don't pull attention away from all of the amazing decor, art and other eye-catching home accessories in your portfolio
3. Consider color. As an interior designer, you have more freedom to play with your logo's color palette. But remember that the colors you choose affect how people perceive your brand. Black is often used by luxury brands and would fit an upmarket design firm, for example; green evokes nature and would be perfect for an environmentally conscious firm or someone who works in interior landscaping or greenhouse design.
With these steps in mind, you'll soon create the perfect logo for your business. Then let it do the talking for you, so you can go back to designing what you love.
No time to design?
While your well-trained eye helps clients turn their spaces into the environments of their dreams, The professional logo designers at Deluxe will work with you to create the perfect look for your small business. We take the time to learn about you and your services, then incorporate industry best practices to create a logo that sets you apart.
Why you need a professionally designed logo
Just as your well-trained eye helps clients turn their spaces into the living or work environments of their dreams, a design professional will translate your ideas into a design you've always wanted. At Deluxe, our experts work with you to create the perfect look for your company. We take the time to learn about you and your services, we incorporate industry best practices, and we create a logo that lets you stand out — one you're proud to display.
Put your logo where it looks best: everywhere
Your logo should work everywhere you put it. Whether it's on business cards, billing materials, a website, social media, your office, company vehicles, a portfolio or design proposals, a Deluxe-designed logo is attractive and eye-catching, with a great sense of style.
Business Cards
Website
Promotional Merchandise
Company Vehicles
Printed Marketing Material
Labels & Stickers
Workwear
Banners & Signage
Get a unique logo design that's perfect for your business
Our experienced designers take the time to understand your business. They'll craft an original logo that best represents your company on all channels — your website, business cards, letterhead, storefront and company vehicles, to name only a few. Each package includes multiple revisions so the final design is 100% perfect.
We know logo design
Get the perfect logo for your brand, whether you build it yourself or let us create one for you.
We champion small business
With a $300 loan and an idea, Deluxe got its start like many small businesses. We value entrepreneurship, and empower companies to grow.
We are trusted
4.5 million customers have put their faith in our products and services. We've been earning the trust of owners since 1915.
What our customers say about our work
Working with Deluxe was a great choice I made. I loved that the company went through the entire process hand in hand. Communicating with Deluxe was a breeze. If I had to do this all over again I would only pick this company. I will recommend Deluxe to everyone I know who is looking for custom design. Words cannot express how happy i am with my logo on my truck and my business cards as well. Very content with their work five stars I give them. Thank you Deluxe!
Ludwig Saenz