Brand Marketing
Jewelry Logo Design
Get great-looking designs that turn heads, build credibility and help you stand out from the pack.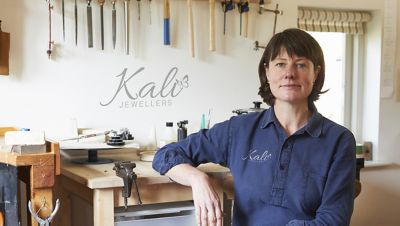 Get a logo that adds brilliant sparkle to your business
Diamonds may be forever, but a subpar logo should never be. As your first impression to a customer or would-be client, a badly designed logo (or no logo at all) can tarnish your reputation before you've even had the chance to interact. Jewelry is often a major, once-in-a-lifetime purchase for customers. A strong logo gives them the confidence that your jewelry business shines brighter than the competition.
What makes a successful jewelry logo?
Jewelry is intertwined with many feelings, concepts and experiences: romance, love, family, timelessness, tradition, eternity, style and self-expression. Choosing the right associations may seem tricky at first, but start by considering what your jewelry business focuses on. Do you specialize in bridal and engagement rings? Fashion jewelry that customers buy to treat themselves? Luxury collectibles or discount baubles? Are you a wholesaler, an appraiser, or a service and repair shop? Do you handle vintage and estate jewelry?
By taking your cues from what's at the core of your business, you can shape your logo to communicate that as soon as customers see it. Consider typefaces: scripted fonts convey elegance and classic beauty — perfect for the bridal business. Serif fonts can symbolize traditional, timeless values and styles. Modern, sans serif fonts suggest chic, fashion-forward designs.
Color is a major component of jewelry and precious gems, and it factors heavily into your logo as well. (Successful use of color is a lesson Tiffany & Co. has learned well with its distinctive blue.) Black, which signals sophistication and glamour, is often a natural fit. White is too, with its connotations of cleanliness and purity. Gold and silver are natural choices, of course. In some cases a bright, vibrant color — a purple or red, for instance — may be more appropriate, particularly if you cater to the style-conscious demands of a younger audience.
Jewelry logos also benefit from strong imagery. The unmistakable shape of a diamond is a solid choice, but a common one. Other precious stones, can help inform color choices. Rings, chains and other jewelry items can also be stylized into memorable designs that help carry your message to customers.
Why you need a professionally designed logo
Deciding which elements of your business to highlight can seem daunting. That's where a professional design team can help. Experts, like the designers at Deluxe, get to know you and your business. By understanding how your jewelry business operates and the types of customers you aim to attract, they can craft various designs that play to your strengths, attract the notice of others and help you stand out from the competition.
Professional logo designers also understand that creating a logo is a process. That's why Deluxe wants your input every step of the way. Working together, you and our design experts revise the logo design until it's perfect, timeless and unique to you — just like the finest jewelry.
Put your logo where it looks best: everywhere
Jewelry professionals know that just because something is small doesn't mean it shouldn't look amazing. Your logo is the same. We design your logo so it's striking and legible at any size: on your storefront, website, business cards, letterhead, medallions, engravings, sketchpads, appraisals, boxes, bags — everything that your customers see.
Business Cards
Website
Promotional Merchandise
Company Vehicles
Printed Marketing Material
Labels & Stickers
Workwear
Banners & Signage
Get a unique logo design that's perfect for your business
Our experienced designers take the time to understand your business. They'll craft an original logo that best represents your company on all channels — your website, business cards, letterhead, storefront and company vehicles, to name only a few. Each package includes multiple revisions so the final design is 100% perfect.
We know logo design
Get the perfect logo for your brand, whether you build it yourself or let us create one for you.
We champion small business
With a $300 loan and an idea, Deluxe got its start like many small businesses. We value entrepreneurship, and empower companies to grow.
We are trusted
4.5 million customers have put their faith in our products and services. We've been earning the trust of owners since 1915.
What our customers say about our work
Deluxe Marketing provided the most expertise that is available today. The team was responsive, and educated and prepared me, as a sole proprietor, to run my online business. This team is what a small business requires as a partner.
Cathie Duchene
The designer and the account manager were so friendly, kind and helpful. I felt they really wanted me to be happy with the final logo. They went beyond what was expected to deliver work on the tight timescale I was up against. They were approachable and happy to speak to me at every stage.
Vicki Brading-Duckwo