Brand Marketing
Landscape Logo Design
Get great-looking designs that turn heads, build credibility and help you stand out from the pack.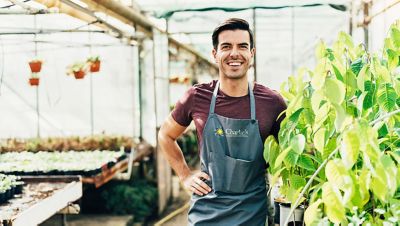 The right logo to get business "blooming"
Landscapers, landscape architects and other practitioners of the outdoor arts know just how important it is for their work to be, and look, perfect. Your logo, which is often customers' first exposure to your business, deserves the same care and attention. You take pride in your manicured lawns and exquisite gardens: Don't mar your reputation with a slapdash logo that sells short your services and abilities. Tell your clients and would-be customers what you do, demonstrate that you're a professional and show that you have a keen sense of style — all in the blink of an eye.
What makes a successful landscaping logo?
Landscaping requires skill, persistence and patience. Landscapers and landscape architects have the unique ability to look at a yard, lot, garden, deck, patio or other outdoor space and see its hidden potential. Through the right combination of colors, typefaces and graphic elements, a well-designed logo conveys your business values and areas of expertise in an attractive package that catches the eye.
Green and brown are often found, as they are the two colors most commonly associated with nature. Green represents life, growth and rejuvenation, while brown connotes steadiness and earthiness. Blue, representing water and sky, and yellow, representing warmth and sun, also show up frequently. Black signifies professionalism and expertise.
Many landscaping logos feature trees, plants, flowers, shovels and gardening tools. There's no set icon that a landscaping or landscape architecture logo needs to use, or a specific pattern to follow. But a strong logo is one that communicates what your services are, even if it does so in a stylized way. A desert landscaper's logo will be different from a company that focuses on lawn care and fertilization, for example. The former may feature earth tones and stylized desert plants, while the latter will most likely make use of green hues and imagery evoking well-tended yards and lawns.
For landscapers and other outdoor professionals, the sky's the limit on typography choices. Modern, sans serif fonts denote luxury and professionalism. Fonts that look more animated or hand-drawn may also be appropriate, depending on the services you provide.
There's no "right" way to create a strong landscaping logo. It's right when the imagery, colors and words come together to create a symbol that accurately and instantly reflects your company..
Why you need a professionally designed logo
The difference between a landscaping professional and an amateur with a green thumb is striking. Years of experience have given you the knowledge and skills to work wonders with outdoor spaces. Why wouldn't you trust your logo design with an equally experienced expert? Deluxe's design team takes the time to learn about you and the services you provide. We listen to your ideas, answer your questions and incorporate your input throughout the process. While we work, we apply our years of knowledge to crafting a design that perfectly represents you. Most importantly, the end result is designed to be attractive and inviting to clients and potential clients. First impressions are everything in the landscaping industry, and your logo is your first impression on others. Make it count.
Put your logo where it looks best: everywhere
Landscaping logos need to look perfect at any size. After all, you want to put it on everything your customers see: company vehicles, equipment, uniforms, hats, business cards, email messages, billing materials, your website and more. We ensure your logo is effective and legible at any size.
Business Cards
Website
Promotional Merchandise
Company Vehicles
Printed Marketing Material
Labels & Stickers
Workwear
Banners & Signage
Get a unique logo design that's perfect for your business
Our experienced designers take the time to understand your business. They'll craft an original logo that best represents your company on all channels — your website, business cards, letterhead, storefront and company vehicles, to name only a few. Each package includes multiple revisions so the final design is 100% perfect.
We know logo design
Get the perfect logo for your brand, whether you build it yourself or let us create one for you.
We champion small business
With a $300 loan and an idea, Deluxe got its start like many small businesses. We value entrepreneurship, and empower companies to grow.
We are trusted
4.5 million customers have put their faith in our products and services. We've been earning the trust of owners since 1915.
What our customers say about our work
Deluxe was reasonably priced and wasted no time getting started on my project. Local companies in my area were very high cost for the same and didn't have staff to turn the product around fast enough.
Alex Archambault
Deluxe takes the stress out of getting the perfect logo to represent your company. I recommend Deluxe to every new and old business owner I come across. Our company was pleased beyond belief.
Coyote Creek Tree Farm