Brand Marketing
Restaurant Logo Design
Get great-looking designs that turn heads, build credibility and help you stand out from the pack.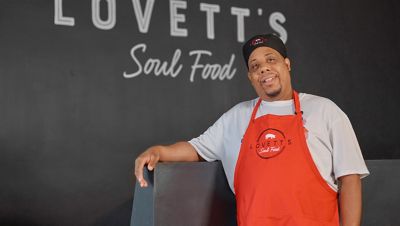 Professional logo samples for restaurants, cafes & diners
Before potential diners have a chance to sample your menu, before they even walk into your establishment, it's your restaurant's logo that clues them into the quality of your food and service. It doesn't matter if you own a bistro, brasserie or barbecue joint, when the emblem that represents your eatery looks good, you look good. Alternatively, if this emblem looks slapdash, amateur or unappealing, potential patrons could very well associate those qualities with your business. The quickest way to inspire trust in your restaurant and connect with customers on the hunt for an exceptional dining experience is with an exceptional logo designed by a professional.
What makes a successful restaurant logo?
A well-designed restaurant wordmark or icon provides key insights into your establishment. Do you serve a special type of cuisine? Are you a family-owned business? Do you offer an out-of-the-ordinary dining experience? Your logo should instantly tell people who you are and what makes you unique through design elements such as color and imagery.
Color not only has the power to make your logo more visually appealing, but it also influences the way people view your business. Think about it — doesn't purple trigger a whole different set of associations in your mind than yellow does? To create a logo that aligns with your restaurant's personality, think about the messages that certain colors convey. Red, for instance, is a bold, exciting color that's popular with casual dining restaurants that aren't afraid to show off. Blue is known to be soothing and reliable and so is an excellent choice for diners, pancake houses, buffets, steakhouses and other restaurants that offer comfort food. Of course, personal preference should play a role when selecting colors; however, your design will be much stronger if those colors support your restaurant's messaging.
When it comes to iconography, chef's hats, utensils and wine glasses are probably the first images that come to mind. While there isn't anything wrong with using these common dining symbols, they're so ubiquitous within the industry that they've lost some of their punch. The best icon for you is specific to your restaurant. To come up with this image, think about what makes you stand out. If you're a butchery as well as a grill house, for example, you might want to include some sort of livestock in your design. Once you've nailed down that differentiator, make sure that the illustration style is appropriate for your business. For instance, if you specialize in fine dining or haute cuisine, a cartoon icon probably won't be the best fit.
Ultimately, cohesive branding is the key to success. All of the pieces of your design should come together to tell your restaurant's story in a compelling, mouth-watering way.
Why professional logo design?
A strong logo creates an impression of the dining experience patrons can expect when visiting your establishment. Whether you prefer a wordmark or something more iconographic, a professional designer can inject your business's voice and heart into this simple graphic in subtle but powerful ways. With years of experience, knowledge of trends and design software, as well as a comprehensive understanding of restaurant industry best practices, your Deluxe designer works with you to create the memorable logo that your restaurant needs.
Your restaurant logo can be used for any type of application
Business Cards
Website
Promotional Merchandise
Company Vehicles
Printed Marketing Material
Labels & Stickers
Workwear
Banners & Signage
Get a unique logo design that's perfect for your business
Our experienced designers take the time to understand your business. They'll craft an original logo that best represents your company on all channels — your website, business cards, letterhead, storefront and company vehicles, to name only a few. Each package includes multiple revisions so the final design is 100% perfect.
We know logo design
Get the perfect logo for your brand, whether you build it yourself or let us create one for you.
We champion small business
With a $300 loan and an idea, Deluxe got its start like many small businesses. We value entrepreneurship, and empower companies to grow.
We are trusted
4.5 million customers have put their faith in our products and services. We've been earning the trust of owners since 1915.
What our customers say about our work
opening a business is a lot of work, but these guys take one weight out of your shoulder, their designs are second to none and they are always available to on the phone. You work directly with the designers. my logo came out way better than expected and the work was done extremely fast.
Manny Lucas
Great designers easy to work with and very professional. They understood my design concepts and if I need to design another logo in the future these guys are the one, thanks.
Adnan Rahman
I have really enjoyed working with the designers. They have been very timely and professional. Working with the Deluxe designers has been a very smooth process. They made the changes in a very timely manner and gave me everything that I asked for.
Deborah L Yorke