Brand Marketing
Salon & Spa Logo Design
Get great-looking designs that turn heads, build credibility and help you stand out from the pack.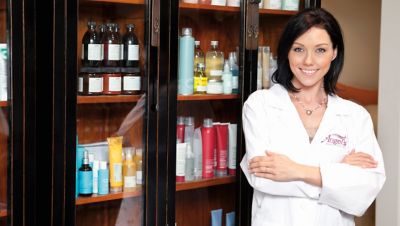 Get a logo that's just your style
As a salon or spa owner, your job is to make people look and feel their best. The same care should be given to your business's logo. Before potential clients even have a chance to see your portfolio or list of services, a strong brand symbol will prepare them for the calming, rejuvenating experience to come.
What makes a successful salon and spa logo?
The instant anyone sees your logo, they should know who you are and what they can expect from your establishment and staff. What's the personality of your salon or spa? Is it peaceful and relaxing? Lively and energetic? Matching your design to the mood of your business is essential when it comes to attracting your target clientele. 
The colors you choose to represent your brand will have a psychological impact on potential customers. Soft hues and saturations denote a calm, relaxing environment while shades of red tell a client to expect a high-energy setting. If you want customers to immediately get a sense of the types of services you offer, you can begin to hint at your specialties through color. Do you operate a luxury day spa with mud or mineral baths? Black suggests luxury, and earth tones are obviously associated with nature. Whichever colors you ultimately decide on, make sure they help communicate your brand's story.
If you're a hairdresser or barber, or if you run a blow-dry bar, you may want to include easily identifiable imagery like scissors, a blow dryer or waves of color signifying flowing hair. A wellness clinic or masseuse might consider centering a design around an icon that symbolizes serenity, such as a lotus flower. But stay away from generic graphics. Even a common icon can look fresh and compelling if it's rendered in an imaginative way. If you don't know which angle to take, try experimenting with abstraction, negative space or line art.
Prefer a wordmark? There's still plenty of room for creative expression with text-based designs. Script or cursive fonts can be delicate and relaxing, and they have a warmth to them that's suited for businesses focused on health, wellness and stress relief.
Why professional logo design?
Estheticians and skin care specialists, cosmetic companies, hair boutiques and spa owners — Deluxe logo experts have worked with them all, and have the industry insight and experience to create a brand symbol that makes you stand apart from the rest. After filling out a creative brief that provides vital information about your business and services, your designer will work with you, one-on-one, to determine the personality you want to convey. He or she will then create an emblem that reflects your business's goals and image, and entices customers to reach out to you.
A logo for every occasion
Do you need a logo for a storefront? A website? Business cards? To make sure you reach your customers, your new logo should work everywhere you need it.
Business Cards
Website
Promotional Merchandise
Company Vehicles
Printed Marketing Material
Labels & Stickers
Workwear
Banners & Signage
Get a unique logo design that's perfect for your business
Our experienced designers take the time to understand your business. They'll craft an original logo that best represents your company on all channels — your website, business cards, letterhead, storefront and company vehicles, to name only a few. Each package includes multiple revisions so the final design is 100% perfect.
We know logo design
Get the perfect logo for your brand, whether you build it yourself or let us create one for you.
We champion small business
With a $300 loan and an idea, Deluxe got its start like many small businesses. We value entrepreneurship, and empower companies to grow.
We are trusted
4.5 million customers have put their faith in our products and services. We've been earning the trust of owners since 1915.
TESTIMONIALS
What our customers say about our work
My designers did a fantastic job working with me until I received the exact look I wanted for my new logo. I want to thank the entire creative group at Deluxe!
Zenza Spa