Mexican mercados, or markets, are more than places to shop — they reflect authentic Mexican culture. Whether you're looking for fruits and vegetables or hand-crafted pottery, you'll find it at a mercado. Husband and wife duo Jose and Catrina Mendoza enjoyed exploring the mercados of Mexico, so when they saw an opportunity to open their own version in their hometown of Searcy, Arkansas, they went for it.
Making a mercado
In 2017, the Mendozas opened El Mercado Cavadas. The store has allowed them to bring the mercado experience to Arkansas and spend more time with their children, who come to work with them every day.
The location had previously existed for years as a Mexican grocery. But the Mendozas wanted to make the space their own. Before they opened El Mercado, they emptied everything out of the store, repainted and changed the layout. It was important that the store be distinct from the previous business, so people would know that it was under new ownership. 
Presently, their offerings include imported dry goods, dried peppers, specialty meats, tortillas and cornmeal. They also offer money services such as check cashing and money transfers. As they begin to expand these offerings — they've recently opened a panadería, or bakery — they'd like to also broaden their customer base. El Mercado is a place where cultures connect, and the Mendozas' hope is that they can serve both the Hispanic community as well as the wider Searcy community.
El Mercado is misunderstood
The Mendozas had hit a plateau in finding new customers. "I feel like we were a pretty niche market that catered to the Hispanic population that's here," Catrina says. "So most of our customers were either Mexican or Central American."
Although the Mendozas wanted to reach a larger demographic, they weren't actively trying to get their name out there or connect with new customers. "We had done very little marketing — practically no marketing. We've depended on word-of-mouth," Catrina says.
As a result, very few people outside of the Hispanic community in Searcy visited El Mercado. In fact, a lot of people assumed they were a restaurant because there was no signage outside of the store that identified the business as a market. When consumers don't know what type of business you're running, it means that there's a branding issue.  
El Mercado was one of six Searcy businesses chosen to receive a marketing revitalization on Season 4 of Small Business Revolution. As part of this process, the Deluxe marketing team would work with the Mendozas to define and brand their business, and acquire new customers.
Branding the business
Marketing, in general, is how businesses let the world know they exist. It's how they promote their products and services, and build relationships with customers. Branding is an important part of marketing. A brand is the identity of a business. It encompasses the business name, logo and other visual and textual elements that distinguish a business from its competitors. A brand lets potential customers know what they can expect from a company, it can help them connect with customers on an emotional level, and it shows customers who they are and what they do.
If a brand is the identity, a logo is the visual representation of that identity. The colors, fonts, symbols and other graphic elements included in the design will convey the business's personality and values to customers in an instant. To establish El Mercado's brand, the Deluxe team would start by creating a logo for them.   
A new look for El Mercado
El Mercado had a logo before teaming up with Deluxe. But it merely served a functional purpose — it was simply the store's name.
"We had called a local company that makes signs, and we said, 'This is the name of the store. Can you make a sign for us?'" Catrina says. The Mendozas didn't feel that the logo represented them as well as it could. "It's not something that you drive past and notice," Catrina says.
There were also two versions of the logo in various spots. That kind of inconsistent branding can be confusing to customers and make a business seem less professional.
A logo is the foundation of a brand. Ultimately, it will become synonymous with the business, as the emblem and its color scheme will be used on all marketing materials and signage. It's critical to take some time to really think about what the design says about the business and make sure that's it's eye-catching.
Putting family at the forefront of the brand 
As the Mendozas thought about how they wanted to be perceived by the community, the idea of family was important. Getting the opportunity to spend time with their family is one of the major reasons that the Mendozas love being entrepreneurs. Their children have a room in the back of the store where they can play, and their eldest son collects farm-fresh eggs to sell.
Before the Deluxe team tackled the logo design project, the Mendozas explained that they wanted to be seen as a friendly, welcoming, family-run market. They take pride in the authenticity of their offerings and the mercado experience they provide to Searcy, and that was something that they also wanted their branding to communicate. The Deluxe designers took these ideas and used them as a guide when creating the logo. 
To capture that authentic feel, the Deluxe team and the Mendozas chose for the logo's primary color a rich shade of terracotta that evokes classic Mexican architecture. The color is warm and reflects the inviting spirit of El Mercado and of the Mendozas. The team also added a very subtle, but attention-grabbing, pattern to the text, mixing traditional and modern elements.
Another significant change was the name of the store. Catrina had explained that the name "El Mercado Cavadas" was confusing to some people, and non-Spanish speakers didn't understand what the name meant. To reflect the inviting spirit of the store in every aspect of the branding, the Deluxe team encouraged the Mendozas to shorten the market's name to simply "El Mercado." Additionally, the words "Grocery | Meats | Bakery" were added as descriptors, so non-Spanish speakers would know exactly what to expect from the shop. Bringing the two languages together in this way connected the two cultures.
Bringing the brand to life
The logo now appears on El Mercado's new website. To create a cohesive brand experience, the website mixes English and Spanish, and has that same terracotta, yellow and blue color scheme that is present in the logo design. While the logo is a symbolic representation of the brand's personality, the website, designed by the team at Deluxe, puts that personality into words. Throughout the site, there are phrases like "We are a friendly, family-owned grocery store" and references to the authenticity of the baked goods and spices on offer.
One of the best things about having a  professionally designed logo  is that the designer will make it available in a range of file formats so you can use it on everything from your social media profiles to apparel to your storefront.
El Mercado's new storefront sign is a drastic change from their previous one. Where the old sign was muted and easy to overlook, the new one is bold and inviting.
The logo is now also emblazoned on new promotional items like T-shirts and aprons that everyone who works at the store can wear. El Mercado also has branded, reusable grocery bags, which, along with the apparel, can be sold to bring in additional revenue. When customers wear a T-shirt or carry a bag with your logo on it, it's like a walking advertisement for your business. As customers are out in the world, wearing your logo, they're bringing more attention to your brand.
El Mercado reaches new audiences
The new branding has already made a huge impact for El Mercado. In August 2019, the market experienced its best-ever month for sales. In fact, it was double the business of a typical month — an increase the Mendozas attribute to the branding changes.  
"A lot of people have just stopped in because they've seen that our logo and sign say 'grocery, meats, bakery'," Catrina says.
New audiences are discovering the store every day. "We've seen an increase in the diversity of the people who are coming in," Catrina says. The success has allowed them to hire a new, bilingual employee to help out. 
With El Mercado's new brand, the Mendozas are well on their way to reaching their customer acquisition goals.
RECOMMENDED RESOURCES
Keep your business moving forward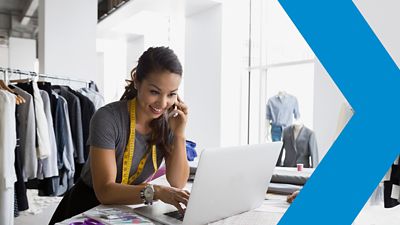 Blog Small Business
How do you know if you're on the right track to a one-of-a-kind brand? Here's how to create a brand that attracts new customers.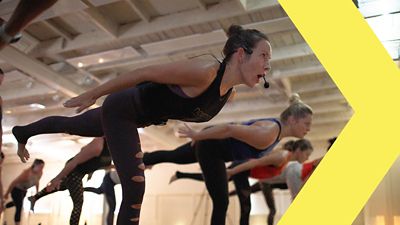 Case Study Small Business
Deluxe helped nooma Yoga Studio lay the groundwork for opening additional locations. Payroll, marketing tactics, and a new website were introduced.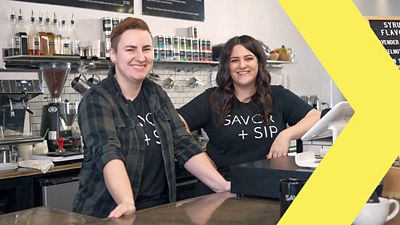 Case Study Small Business
Savor + Sip - a coffee shop in Searcy, AR - was featured on our Small Business Revolution series. Learn about their new marketing plan to improve sales.