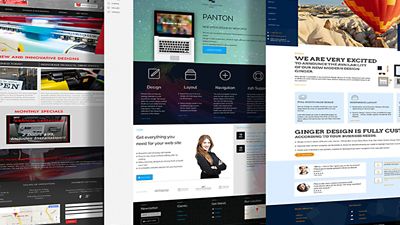 Latest News
Choose the Website Design Package That's Right for You
Each of Deluxe's website packages include professional design and content to get results for your business. Call us at 866-958-3536 or Ready to get started
Website Packages
5 Page Business Website Package
10 Page Buiness Website Package
Online
Store
Custom Website Design
 
Get Started
Get Started
Get Started
Get Started
 
For businesses that need to project a professional online image
For businesses that need more pages to share business information
For businesses that sell products online
For businesses that need a unique, tailor-made design
 
$60/month
12 month agreement
Year 2+: $30 month
$149 setup fee
$110/month
12 month agreement
Year 2+: $30 month
$149 setup fee
$129/month
12 month agreement
Year 2+: $40 month
$149 setup fee
Price varies based on individual project needs
Package Features
 
 
 
 
Website Design
Customized templates
Customized templates
Customized templates
Customized templates
Mobile Friendly
 YES
YES
YES
YES
Professionally Written Content
YES
YES
YES
YES
Apps
Such as lead forms, photo slide  
shows, coupons, reviews, menus
and more
YES
YES
YES
YES
Online Marketing Toolkit
Including domain name, email address, hosting, and email marketing
YES
YES
YES
 
Online Store Setup
10 products, 5 tax calculations, 2
shipping providers and merchant
account set up
 
 
YES
 
Custom WordPress built site from scratch
 
 
 
YES
Choose from multiple design
concepts from multiple designers
 
 
 
YES
Deluxe website packages also include:
Dedicated Deluxe Contact – You'll be assigned a dedicated Website Coordinator who will take the time to understand your business and identify how your website can help reach and engage your target audience.
Industry Specific Design Choices – Based on your business category, we'll recommend certain design elements, content and apps that will help you connect with site visitors.  We've built hundreds of websites for restaurants, medical professionals, contractors, retailers and many other professions.
Experienced Designers - Our skilled website professionals know the right layout, imagery, typography and color schemes to make your design pop. With your input, the experts at Deluxe will create a distinct website for your business, then help you maximize its potential with additional features.
An Optimized Site – We will help ensure people can find your site with SEO compatibility and view it on their smartphones and tablets with a mobile friendly design.
Don't trust your primary online marketing tool – your website—to a freelancer or a DIY website creator. Go with a trusted, experienced design resource like Deluxe. We'll be there when you need us.