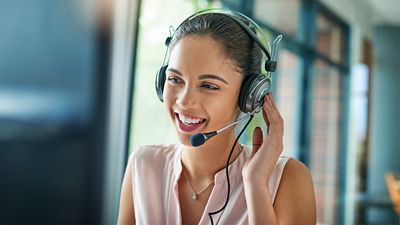 Deluxe eCheck reviews from actual customers
Our best advertising? Happy customers! After sending millions of Deluxe eChecks, our satisfied clients can tell you better than we ever why eChecks are the right payment solution for your business. Read on to see real Deluxe eCheck reviews.
Office Manager/Drafter
Deluxe held my hand transitioning to using eChecks. With several practice checks at the beginning, there was no risk to our bottom line. A bundle of eChecks is quite a bit cheaper than the paper checks we would have had to purchase (plus we could buy fewer, which was all we needed). It was so easy and straightforward. Sending payments through Deluxe gets the bills paid faster and more efficiently. The platform provides all the info I need to track the outgoing checks. When I've had problems, Deluxe has been right there to help. Thanks Deluxe! 
Jilliana Reasoner, Jarnot Engineering, Inc.
This product is a game changer.
Being able to get a check in my vendors hands on the same day for less than a postage stamp is INCREDIBLE!
Kym DeWitt , Beer Mule Bottleshop + Pour House, LLC
With the simple click of a button…
We relocate families from disasters and we have to have checks sent out to landlords so they can move in. We used to overnight checks through UPS and it cost 30 bucks and a half an hour of time and now with the simple click of a button we are able to ensure a family has money in their time of need.
Robert Menconi , HOME SOURCE CORP
Our crews absolutely, positively, hands down LOVE eChecks
We now save all of those hours on a weekly basis that were spent doing something mundane. We don't have to buy the envelopes anymore, so that's a cost savings. We don't have to take the time to address and stamp them all, more time savings. And our crews absolutely, positively, hands down LOVE eChecks. We're known as the fastest payors in the East, that is one of our kudos.
Roseann Bunshaft , Solutions Management, Inc
We did one sale where we did paper checks and stuffed checks and that's all it took for me
It was not a matter of cost savings so much in my regard, for me it was a time savings. We did one sale where we did paper checks and stuffed checks, and that's all it took for me to consider eChecks. The ease and convenience of preparing and doing these checks paperless and through email, especially since email was our driving force behind how we communicate to our consigners, that made so much more sense to me to pay them this way.
Melanie Salamone , Just Between Friends
We've reduced our cycle time from 10 days to 4 days
I do four different events. Depending upon on the size of the event, with my largest event we have anywhere from 1200 to 1500 sellers. All those people get paid at the end of the sale. We are able to upload our data from our point of sale system into the eChecks system, as well as QuickBooks, so that they can be paid very quickly. We've reduced our cycle time from about 10 days to 4 days. So our people are getting paid much faster by email.
Tracy Panase , Just Between Friends
I'm super stoked
Biggest benefit is being able to track it to a better degree than having something sent by mail. The other alternative being ACH and having every payee updating their bank account information and the liability of that I don't like. The platform allows for the CSV file to be uploaded and generate the actual payments. That's a huge timesaver compared to doing it the way I had to before or actually stuffing envelopes. I'm super stoked.
Greg Hinman , Safe Signings Escrow & Lender
eChecks saved us 50% on payment costs
We spend all of this time, energy, and money to get checks out every week and you're going to turn it into a two click task? I'm all in. You cut our expenses at least in half when it comes to envelopes, checks, stamps, rental of the mail machines, extra ink, extra time that was all spent. Not only have you saved us more than 50% in dollars, you also cut our time down more than 90%. Totally awesome! It really doesn't get any better than that.
Marc Greco , N3 Notary
We're able to satisfy our customers and create more value for them
Prior to eChecks we were challenged with the ability to write checks on behalf of our customers. We have 40 locations around the country. So, we were in a position where we had to provide check stock to individual locations and give them the ability to write and sign a check. Which became challenging in terms of accounting and security concerns. Once we found out about eChecks we were able to eliminate all of those security challenges and just centralize it. What used to be somewhat of a logistical nightmare for us in terms of managing the checks has become very smooth and our customers rely on it more frequently than they have in the past.
Victor Finnegan , American Expediting Company
It allowed us to streamline our payments in one place
Mailing checks, getting payments, doing wires it becomes kind of a headache. The problem with that was at the end of the year for taxes we had six different payment methods and trying to reconcile that was a jumble. That's why eChecks were really cool for us because it allowed us to streamline alll of our payments in one place. With eChecks I could send payments right from my phone wherever. When we are shooting we are out on location and traveling around the world. This I can just do it right from my phone and send it to them and they're good.
Benjamin Griffin , Prime Zero Productions LLC
The biggest benefit, we found, is the speed
The biggest benefit, we found, is the speed. It has got to be speed. It's got to be time. I just issue this eCheck and it goes "bing". If you have to send a paper check you have to go to FedEx, spend big money to send your check to the vendor so you can get something shipped out. My god, you email them the eCheck immediately and they can have it in minutes, so you get a quicker response time. It's a time-saver, it really is. And we don't have to worry about any checks getting misplaced or not posted.
Bert Morris , Inter-County Communication
We were looking for a solution like eChecks
We were looking for a solution to send funds the same day. We are licensed in 50 states, so if there's a closing going on in Ohio and the realtor didn't want a wire transfer because of the fees, we were looking at how we could get them a check the same day. eChecks is very cost effective, that's been a huge savings for us between wire fees and overnight shipping and such.
Misty Williams , Linear Title & Closing
I have control of everything
I have control first of all, I write the checks myself from anywhere in the country or the world, and I email them to my site managers. They print them out and they get them to the guys on the same day, which is absolutely fabulous and I have control of everything, which is great.
Carmen Lopez , International Builders, Inc
I didn't have to keep paper checks stored
It was less expensive and I didn't have to keep paper checks stored anywhere. Whoever I'm sending it to are getting it quicker and a lot of my vendors like that.
Traci Huckaby , Town & Country Flower Shop
People like them for their instant gratification standpoint
Ordering paper checks was expensive, and it was also becoming increasingly time consuming & unmanageable for me because I was the one printing out 20, 30, 40, 50 checks in a month. I was the one who was ripping off the trifold, folding the checks up, stuffing the envelopes, sticking stamps on... and I'm the COO, I'm not exactly the least expensive resource here. I don't want to waste my time on that.
Linda Fleming , Sweetrush Inc
It's easy to work from anywhere
Deluxe eChecks make it easy to work from anywhere. I can pay bills and contractors from out of town or while I'm sitting in a waiting room. It's very convenient!
Laura Fitzgerald , LP ETC, Inc
People don't expect to have a check in their hands in 15 seconds
Getting payments to military people is more difficult than a normal payment. And the people want their money yesterday. eChecks helps my work flow because people don't expect to have a check in their hands in 15 seconds. My end intent is to go totally mobile, so I can go sit on a beach somewhere and do this, which you wouldn't be able to do with 20 different accounts with paper checks.
Van Miehe , Hausch & Company
It's just been excessively beneficial
It's a pretty smooth program, I really do like it, it's pretty straightforward. I do a lot of batch payments and not having to write them... not having to mail them, it's just been excessively beneficial.
Matthew Peters , JMSP LLC
It's cheaper than the paper checks
The good thing about Deluxe eChecks is that it is easy to use, it's cheaper than the paper checks, and faster delivery to our clients.
Victoria Alexeev , FlipGive
We're moving towards all eChecks
eChecks has been awesome. We're moving towards all eChecks, moving away from the hard checks absolutely.
Nichole Ruzicka , Rhea Farms
I think it's going to save hours of staff time this 4th quarter
If you can slash expenses by 75% or so, to me, it was a no brainer. You can save the extra cost, the maintenance cost of printing, ink cartridge fee and postage. It's less staff time, no one stuffing envelopes and running it through the mail machine. To me it seems like a win win situation. I can't think of any downside to it.
Melisa Sunde , Omaha Community Foundation
You set it up once and it's easy to do
I'm old so I'm old school and I guess I was a little nervous about it. But I'm on board! I am the biggest fan. I think it's great and its really helpful for us. I like that it is simple. You set it up once and it's easy to do.
Jay Weisglass , EarthEfficient
The process is invaluable
The process is invaluable. A lot of stuff in our business is last minute or spur of the moment and you have to get it out really quickly and someone needs it immediately, so mailing a check is impossible. This is a tangible product that they can have in their hands immediately. It is made for our business, it's perfect.
Daniel Livschutz , VILAS Entertainment
I can send eChecks, life is good
In my small company, cash flow is everything. I may not be able to place an order until I get that vendor paid. Now I call my rep and say 'I just sent you an eCheck" and they say 'Go ahead and place that order.' I would say another big plus is I can do it from my mobile phone. In today's world I can control my home from my mobile phone, I can let people in, I can control my lighting, I can send eChecks. Life is good.
Nichole Ruzicka , Rhea Farms
A lifesaver for our company
I would highly recommend Deluxe e-checks as it has saved our Accounts Payable department several hours each week processing payments. Prior to implementing e-checks, our A/P clerk would print out the checks (about 1030/week) and they'd go for signing. Then the checks would come back to the A/P clerk to stuff into envelopes. We've literally cut our A/P process in half by eliminating the check stuffing! I was hesitant at first when I heard about checks being emailed, but little did I know what a lifesaver this was for our company. The other plus is the customer service from Deluxe is like no other vendor I've ever done business with – they truly care about their clients!
Landon Roe , Storage Asset Management
Send faster payments today
Get started with our special Deluxe eChecks introductory offer: 50 eChecks for just $30
Support & Contact
Connect with our team and get your questions answered
eChecks Support
800.631.8962
Monday - Friday 8:00 am - 7:00 pm CST
Saturday 8:00 am - 4:30 pm CST